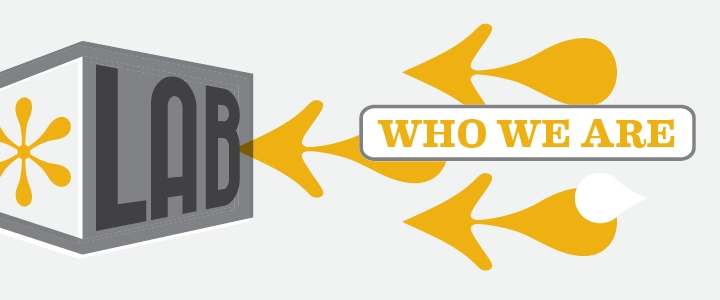 Rebecca Voorhees
Hi! I'm Rebecca and I am the Design, Identity, and Studio Manager here at The Lab. In addition to managing the greatest design studio here on campus I also am the Gallery Manager and Curator for The University Union.
I was born and raised in the small town of Sonora, which is about 2 hours from our state capital. I relocated to Folsom with my then boyfriend (now husband) in 2001 so that we could both pursue our college education. I was majoring in Liberal Studies at Sierra College in Rocklin and ended up taking a Graphic Design class just as a filler. I fell in love with design and had to change my major. I have always been a creative person but figured you had to be good at art (which I am so not) to make any sort of career out of it. I found design at a late age, you could say. I ended up getting two Associate degrees, one in Liberal Studies and on in Applied Arts and Design. I knew that in order to really make it I needed to take that next step and get my Bachelors Degree.
Following three really challenging, but very rewarding, years on campus I graduated from Sacramento State in 2007 with a Bachelor of Science in Graphic Design. I landed a great gig working as a Graphic Designer on campus shortly behind graduation. After five years of designing and mastering project management I knew I was ready to venture out and see what else was in store for me. I stumbled upon a wonderful job opportunity managing The Lab, which had an outstanding reputation on campus. And here I am! I graduated from Sac State and never left.
I currently live in Folsom with my husband and our awesome son. I absolutely love time with my family. We enjoy being outside hiking, biking, swimming, and going for lots of evening walks. I spend a lot of my down time in the kitchen cooking and coming up with new recipes. As a hobby I manage my blog www.divadicucina.com (shameless plug, I know). I find that what I learned as a designer is frequently applied to my cooking. Like so many things in life it is all about balance, composition, contrast, complimenting, and of course presentation.

Q) What's your guilty pleasure?
A) Peanut Butter. I eat it by the spoonful. All about that Creamy Jiffy!

Q) How do you take your coffee?
A) With a heavy splash of cream. Sometimes I indulge with Bailey's on the weekend.

Q) What did you want to be when you were a kid?
A) A mermaid.

Q) What is your favorite holiday?
A) Christmas, the day of, and the entire month leading up to it. I love everything about it!

Q) If you were going to be on Jeopardy what 5 categories would you hope to see?
A) Pop Culture | Food | Super Heroes | Baking | Cartoons and Toys from the 80s
Diana Lee
Hello! I'm Diana Lei Lee, a full-time Graphic Designer here at The LAB. I was born and raised in Honolulu, Hawaii until I moved to Sacramento when I was 13 and I've been here ever since.
My college journey started off with a little self-discovery. I had majored in Biological Sciences for a year at UC Davis where I quickly found that it wasn't for me. I started anew at Sac City where I took a couple of photography and art classes and realized that despite my interest in the sciences, I had sorely missed my creative side. After hearing about Graphic Design from a friend I figured it was the best way to combine my love for art and science. I eventually transferred to Sac State in Fall 2009 and got into the Graphic Design program the following year. During my time in the program, I was able to intern at 2 on-campus organizations with one of them being The LAB. It was there that I was able to learn from the most incredible team of Graphic Designers/Mentors. I am super grateful for the time I spent as an intern there.
After graduating from Sac State in 2012, I worked as an in-house Graphic Designer at a local fitness company for a while. Then things had come full circle when I eventually ended up back at The LAB as a full-time Graphic Designer in December 2014. Here, I mostly oversee projects for The WELL and mentor a batch of my own interns this time. I'm a print designer that loves experimenting with different analog approaches for each project whether it's combining illustration with type or creating hand-lettered pieces.
When I'm not saving the world one design at a time, I enjoy hanging out with my family, catching up with friends, exploring beaches, road tripping, doodling, hand-lettering, Netflixing, eating, horizontal running, and laughing. Laughing is my favorite. If you're curious about my work you can find it at www.dianaleilee.net or if you would like to catch up on my current projects, stop by The LAB on campus.

Q) What's your favorite food?
A) Fried Chicken.

Q) How do you take your coffee?
A) In ice-cream form.

Q) What's your favorite quote?
A) "Why do we do what we do when we do what we do hanging out late with no curfew?" —Warren G, Summertime in the LBC

Q) What's your biggest pet peeve?
A) People who spit on the sidewalk right in front of me and expect me to dodge them.

Q) If you were going to be on Jeopardy what 5 categories would you hope to see?
A) Harry Potter | F.R.I.E.N.D.S | Name that Octopus | 90's Nickelodeon Cartoons | NSync Trivia
Erin Umipeg
Hello there! Born a San Francisco Giants fan in Hayward, California. Currently still a full time Giants fan and full time Graphic Designer. As a young child I was always into coloring, drawing, and art. As I grew up I continued to venture into anything art related which led me to the world of Graphic Design right after high school. I started my design studies at Sierra College and later transferred down to Southern California where I graduated with my Bachelor's degree at Cal State Fullerton. I held an intern position with the City of Anaheim. When that concluded I got my first design job working for a snack and candy company where I designed print materials as well as snack and candy packaging that I was eventually able to see on store shelves such as Party City, Cost Plus, and Walgreens throughout the United States.

After spending 9 years in sunny Southern California I moved back north and started working for The LAB at Sac State at the end of 2013. It is here where I enjoy mentoring graphic design students, taking on branding projects, and other various projects for The University Union and The WELL.
When I'm not sitting at my desk you can find me rooting on the Giants, at a local concert, road tripping down to Disneyland, running a half marathon, eating fro-yo, or crossing off bucket list items. Currently traveling to every active baseball stadium nationwide. 24 down, 6 to go! My guilty pleasure is anything reality TV and will watch reruns of Saved By The Bell and 90210 any day. I'm always up to exploring new things and ready to adventure the world one step at a time.
If you would like to know anything else, feel free to contact me or stop on by The LAB!

Q) What do you do in your spare time?
A) In my spare time I like to do anything from going to concerts, running half marathons, to attending baseball games and traveling to new baseball stadiums. I've been to almost all of them!

Q) What's your guilty pleasure?
A) Reality TV

Q) What's your favorite quote?
A) "Love the life you live, live the life you love" - Bob Marley

Q) What did you want to be when you were a kid?
A) As a kid, once I learned to hold a crayon, all I wanted to do was color in coloring books. When I learned there was no such thing as a "professional coloring book colorer", I knew I always wanted to do something related to art.

Q) If you were going to be on Jeopardy what 5 categories would you hope to see?
A) Baseball | Disney Movies | Disneyland | Reality TV | San Francisco Giants
Kenji Enos
Hello, I am Kenji a Senior Designer here at The Lab. My closest friends and coworkers also know me as Kenjiboy. I was born and raised in the Capital City of Sacramento.

My college education started at Sac City where I took a multitude of classes and found that I really enjoyed studio art. I stumbled upon classes for Graphic Communications where I could take my love of art and technology and combine them. After a few semesters, I became a tutor in the MAC/CAD Lab where I taught others what I had learned and helped them understand the programs. I graduated with an AS in Graphic Communication in 2007.

After getting a solid foundation in design software from Sac City, I transferred to Sac State where I applied and was accepted into the Graphic Design Program. Here, I built upon my previous skill sets and mixed it with design. I took what I learned and applied it to freelance work and internships, while going through the Design Program. In 2008, I graduated from Sacramento State with a BS in Graphic Design. Following graduation I ended up staying at Sac State, working as a Graphic Designer in Collaborative Services at The University Union, aka The Lab where I had interned as a student. I am now the primary Designer for UNIQUE Programs and The University Union. On a daily basis I mentor and oversee our team of four graphic design interns. Here, I enjoy the freedom to keep on experimenting and discovering new ways of reaching people who are connected to Sac State.

I have several specialties in design that include typography, color theory, illustration, storyboard concepts, layout, photography, animation principles and techniques. I am diverse in the software I use including the Adobe Creative Suite, Cinema 4D, Final Cut Studio Pro, and Four Winds Interactive Software.

If you want to see more of my work check out my site www.kenjiboy.com

Q) What do you do in your spare time?
A) Watch movies, play video games, and learn new stuff.

Q) What's your favorite food?
A) Beer

Q) How do you take your coffee?
A) With a shot of Whiskey minus the coffee.

Q) What did you want to be when you were a kid?
A) I wanted to make robots, or be a chef.

Q) If you were going to be on Jeopardy what 5 categories would you hope to see?
A) Typefaces | Alcohol | Video Games | Useless Crap | Hamburgers