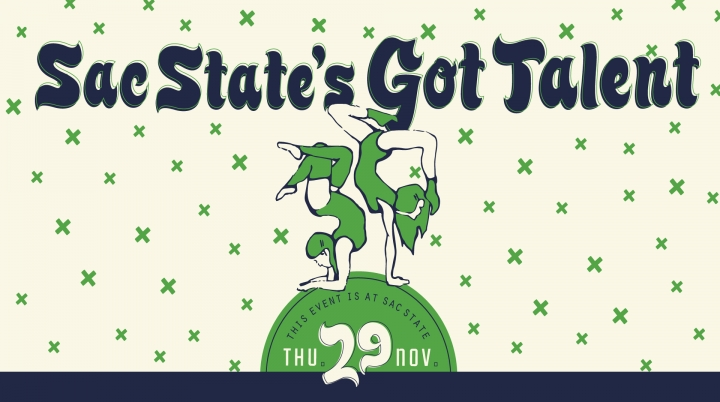 Date: November 29, 2018

Talent Showcase
EVENT TIME
7 pm
EVENT LOCATION
The University Union Ballroom
ADMISSION
Free!!!
DESCRIPTION
As a way to celebrate the end to the semester, The University Union's UNIQUE Programs will be hosting the first ever, Sac State's Got Talent, on Thursday, November 29th, 2018. The event will be held in the University Union Ballroom at 7 pm, with doors opening at 6:30pm.
Sac State's Got Talent will feature the best entertainment at Sacramento State – its students. This event is a showcase where students will be performing a variety of talents. UNIQUE held an audition day on Thursday, September 20th. However, each student had the option to submit a video of themselves online showcasing their performance or to audition in person. In order to have auditioned for the show, the person must have been a current Sac State student and completed the online application. At the show, there will be a total of 28 performers with a variety of talents, including: dancing, singing, instrument playing, and poetry.
"Originally when we were doing Battle of the Bands, I didn't like that it was restricted to only bands because I wanted to see different types of genres," said Danielle Carr, Programs Assistant for UNIQUE and event organizer. "I wanted to see what it would be like if we were to open it up to other talents. Maybe next year we can turn (Sac State's Got Talent) into a competition."
All ages permitted. No alcohol sold or permitted at venue. Open to the general public.
SPONSORED BY
UNIQUE Programs
The University Union
PARKING INFORMATION
ADDITIONAL LINKS
Facebook Event Invitation
Campus Calendar
SPECIAL ACCOMMODATIONS
Individuals needing reasonable accommodations must contact us within 5 business days of the event at UNIQUEPrograms@SacStateUNIQUE.com or (916) 278-3928.