Cancellations & Updates- COVID 19 Mitigation Efforts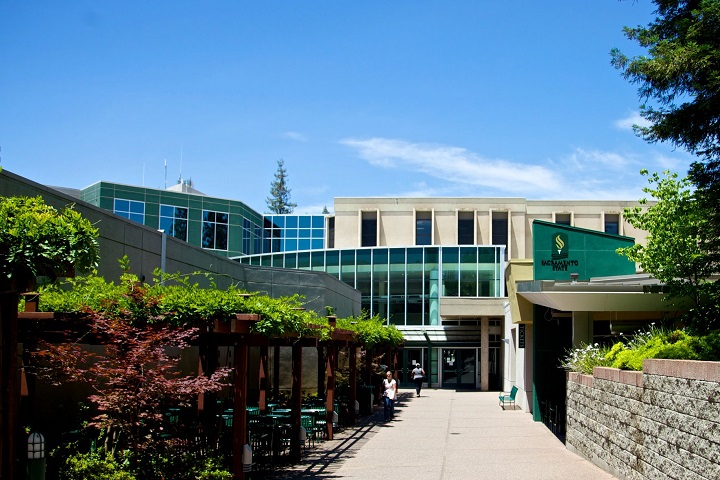 We will continue to post updates to our building as we have them or you can refer to the Sacramento State website for the most up to date information and FAQs. For questions, you can e-mail our University Union Info Desk at uuinfodesk@csus.edu or call (916) 278-6997 and we will respond as we get the opportunity.
Updates
As of August 31, 2020
The University Union will remain closed through the Fall 2020 semester, in an effort to minimize the potential for further spread of the COVID-19 virus. The health and safety of our Hornet family has always been one of our top priorities, and this situation is no different. In conjunction with the University Administration, we feel that opening the Union presents too much of a risk, and that it would be difficult to accurately manage the occupancy numbers and distancing protocols required for safe operation. We will continue to offer virtual programming events through UNIQUE Programs and the Union Games Room video game tournaments. The majority of our campus partners that reside within the building made the determination to continue to work (and serve students) remotely and the campus also announced events, meetings, and gatherings would need to remain virtual through the Fall. However, the ASI Food Pantry and Peak Adventures (both independent operations with separate exterior building entrances) will be open to the public (see their websites for specific hours/days of operation). Our hope is that by early Spring, it will be safe for us to fully open again. We will keep you informed as we learn more.
As of August 10, 2020
ASI Peak Adventures will be open Mondays- Friday, 9 am- 5 pm, beginning August 10.
As of April 17, 2020
The University Union will remain closed until further notice. However, the ASI Food Pantry will remain open for new modified, limited hours: Tuesdays 10 am- 1 pm and Wednesdays 1 pm- 4 pm. For more info: ASI Operational Updates.
As of March 17, 2020
The University Union will be closed on March 18, 2020 until further notice.
The ASI Food Pantry will remain open for limited hours: Tuesdays 10 am- 1 pm, Wednesdays 1 pm- 4 pm and Thursdays 10 am- 1 pm.
Additionally, since the ASI Student Shop & Business Office will be closed, Payroll & Accounting checks will be mailed.
For more info:
ASI Operational Updates
The WELL Operational Updates
As of March 16, 2020
The University Union is currently open for adjusted hours, 7:30 am-5:30 pm, Monday-Friday, but closed on Saturdays and Sundays.
Our Games Room, Terminal Lounge, and Gallery are closed entirely. ASI Peak Adventures & Bike Shop and ASI Student Engagement and Outreach are working remotely, but the ASI Food Pantry remains open for limited hours and offers only pre-packed bags of groceries for students with a OneCard. The ASI Student Shop will be closed starting Tuesday, March 17 until further notice and will open Friday's only from 9am-4:30pm for cap & gown sales, payroll check and accounts payable check pick-up. All checks not picked up by 4:30pm will be put in the mail on Friday.
Union Administration and Police Service Center are open for their normal semester hours. Our Event Services is a virtual operation, accepting emails and OPUS requests. The Lab Design Services is closed for public business.
The Store is open Monday-Thursday, 8 am-4 pm and Friday 8 am-3 pm.
CARES Office, Dean of Students, PRIDE Center, Student Organizations and Leadership, and Women's Resource Center are working remotely.
The recreation side of our sister facility, The WELL, is closed, but Student Health and Counseling Services will remain open 8am-4:30pm, Monday-Friday.

For more info:
ASI Operational Updates
The WELL Operational Updates
Cleaning Practices
What we currently do and have always done:
We staff our building with dedicated custodial staff around the clock including overnight sanitization.
Non–custodial program staff also have use-based cleaning practices in place to target certain high-use surfaces.
We use a variety of high quality, effective, antibacterial and antimicrobial solutions tailored to specific surfaces and uses.
How are we stepping up:
Increased use of Citra-Cide Disinfectant Cleaner throughout the entire building. This is an EPA registered, neutral pH, hospital-grade disinfectant. Kills HIV-1, Hepatitis B virus, MRSA, MRSA-CA and E-coli, and numerous other microorganisms. Door handles, keyboards, ADA push buttons, elevator keys, tables, and chairs are being cleaned throughout the day. Prior, this kind of detail was completed at a minimum nightly but this is being amped up to quickly kill and disinfect surfaces and prevent the spread of germs.
Purell Food Service Surface Sanitizer is being used in the Food Court. Custodial staff cleans each table and chair as they are empty throughout the day. This sanitizer is formulated for food contact services, has rapid 30 second germ kill, and is EPA designed for the Environment. Kills Norovirus, E.coli, and Salmonella in 30 seconds.
Custodial staff are wearing nitrile gloves when cleaning each area. Custodial staff are changing gloves and washing hands when they are done cleaning a space.
Additional hand sanitizer stations have been purchased and are expected to arrive this month.
How can you help?
Stay home if you are sick, except to get medical care.
Wash hands often with soap for 20 seconds especially after blowing your nose, coughing or sneezing. Take advantage of soap and water in our restrooms.
Avoid touching your eyes, nose, and mouth with unwashed hands.
Take advantage of the various hand sanitizers available throughout the building in our dispensers.