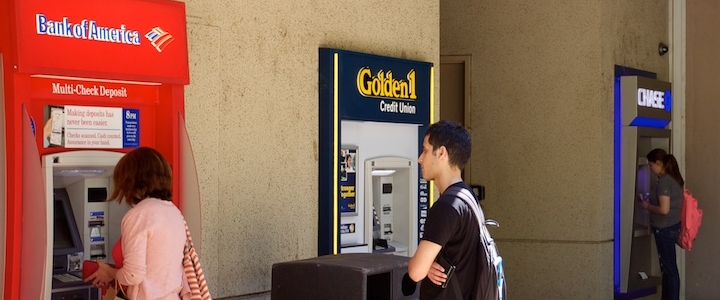 ATMs
Get cash, deposit money, or check your bank statement without going to the bank. The University Union offers ATMs for Bank of America, Golden 1, and Chase, located just outside the West entrance of the building.
One Card Stations
At Sac State, the One Card does more than just identify you. It also functions as a library card, public transit card, computer lab print card, discount photocopy card, access card for campus sporting and social events, a way to make on-campus purchases and as an ATM/ PIN debit card through Wells Fargo. At the One Card Value Transfer Station, located on the first floor of The University Union near Jamba Juice, you can upload additional funds to your One Card for future use.
Copy Machines
1st first floor of the University Union
Charging Stations
Charging lockers for your mobile devices and laptops are available throughout the building and are free to use. Keypad locks with user-generated codes provide safe and secure charging for laptops, tablets, and phones, with the ability to charge just about any device.
Water Filling Stations
Clean, filtered water is available at the various water filling stations we have available throughout the building.