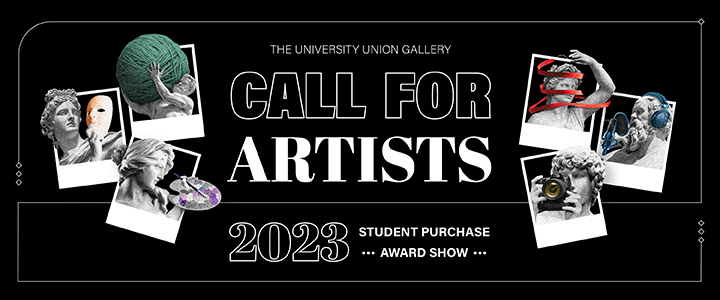 A juried exhibition of work by Sac State's very own students.
Gallery
Exhibition Dates: March 27, 2023 - April 20, 2023
Opening Reception: Thursday, March 30, 6 pm - 8 pm

Artist Statement
The Student Purchase Award Show is an annual art exhibit, which is an integral part of the University Union Art Gallery. It is a tradition that dates back to the late 70s, shortly after the original University Union opened in 1975. Artwork submissions are completely open to all students currently enrolled at Sacramento State.
Students submit their artwork during a three-day period and then off-campus visual arts professionals are chosen to judge the submitted work. Three "Best of Show" awards (in addition to Purchase Awards) are selected solely on the basis of artistic quality, and are awarded a cash prize. The works selected for Purchase Awards are chosen using the following criteria: artistic quality, adaptability into the University Union permanent collection, and the relative price of the piece. Those pieces then become part of the Union's permanent collection and will be displayed in the facility for years to come.
Submissions will be accepted in the Univeristy Union Gallery on the 2nd floor from March 13–15. Download, fill out, and print the application at the link below to bring in the Gallery to expedite the drop off process. Printed copies of the forms will also be provided in the Gallery on the submission days.