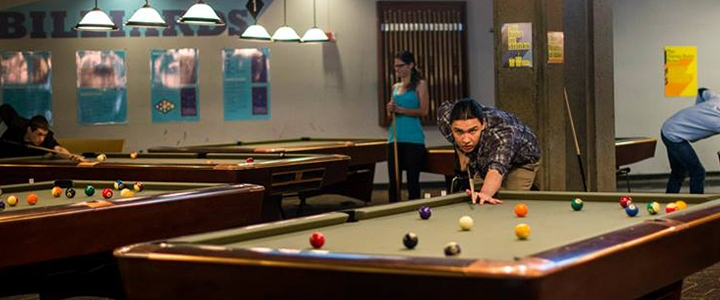 FREE to enter!!! Tournament winners will be awarded a $50 certificate to Amazon.com and will be included in the Games Room "Hall of Fame".
Tournaments are held in the Games Room (1st FLOOR UNIVERSITY UNION).
All tournaments are free and open to Sac State Students only. **ALL PARTICIPANTS MUST REGISTER PRIOR TO THE TOURNAMENT DATE** The deadline for all entries is at 11:59pm the Thursday prior to the tournament date.
The day of the tournament, check-in for all registered participants is from 12:30pm - 1:00pm. Tournaments will begin promptly at 1:15pm sharp. No Late Check-ins Accepted.
THE SPRING 2020 GAMES ROOM SERIES- CANCELED ​
CANCELED - March 20, 2020 - NBA 2K20 (Playstation 4 Pro)
CANCELED -March 27, 2020 - Players' Choice (PlayStation 4 Pro)
CANCELED -April 10, 2020 - Call of Duty: Modern Warfare (Playstation 4 Pro)
CANCELED -April 17, 2020 - 8 Ball Billards and Table Tennis (tournaments take place simultaneously; participants can only choose one of the two tournaments listed to play in)
CANCELED -May 1, 2020 - Players' Choice (Nintendo Switch)
NO LONGER ACCEPTING REGISTRATION DUE TO CANCELLATIONS OF SPRING 2020 TOURNAMENT SERIES
---
For more information please call (916) 278-5773 and or email uniongames@csus.edu