A Memory, A Monologue, A Rant & A Prayer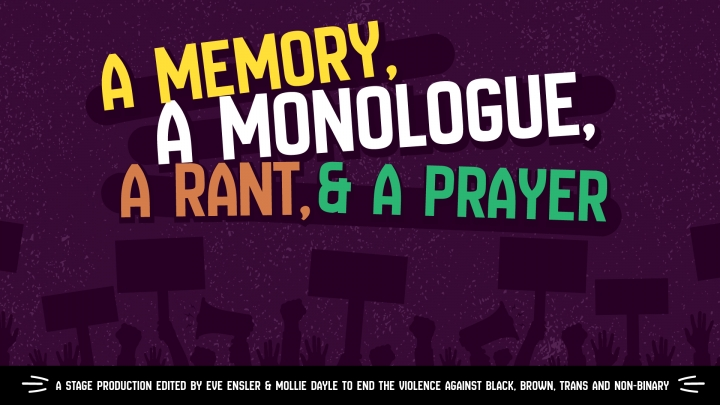 Date: February 26, 2019

Stage production edited by Eve Ensler (The Vagina Monologues) & Millie Dayle to end the violence against black, brown, trans & non-binary
EVENT TIME
5 pm
Doors open at 5 pm and show will begin promptly at 6 pm
EVENT LOCATION
The University Union Ballroom
ADMISSION
$5 Sac State students with valid One Card
$7 Community College students with college ID
$10 General admission
Tickets will go on sale Tuesday, January 22, 2019 on this site and at the ASI Student Shop (311 Sequoia Hall).
DESCRIPTION
Welcome to the inaugural A Memory, A Monologue, A Rant and A Prayer at Sacramento State- honoring the womxn of color (trans, gender non-conforming, and hetero) in surviving misogyny, white feminism, capitalism, colonization, racism, imperialism, homophobia, transphobia, Islamophobia, and xenophobia. This stage production is directed by and feature Sac State students.
A Memory, A Monologue, A Rant and A Prayer is a groundbreaking collection of monologues by world-renowned authors and playwrights, edited by Eve Ensler (The Vagina Monologues) and Mollie Doyle.
These diverse voices rise up in a collective roar to break open, expose, and examine the insidiousness of violence at all levels: brutality, neglect, a punch, even a put-down. These writings are inspired, funny, angry, heartfelt, tragic, and beautiful. But above all, together they create a true and profound portrait of how violence affects every one of us.
The proceeds from this Sac State stage production will go to My Sister's House- an organization that addresses the needs of Asian and Pacific Islander women and children impacted by domestic violence.
All ages permitted but content may not be suitable for all. No alcohol sold or permitted at venue. Open to the general public.
SPONSORED BY
UNIQUE Programs
The University Union
Student Health & Counseling Services
Women's Resource Center
PARKING INFORMATION
A Sac State parking permit is required to be displayed while parked on campus. You may only parking student parking spaces. To purchase a $7 daily (or $4 two-hour) parking permit:
• Sign up for a PayByPhone account and download the app. When you arrive on campus, enter location number "5115" into the app to pay your parking fee.
• When you arrive on campus, pay with cash or credit at any permit machine located in all student parking lots/structures. View the campus map for permit machine locations.
Your parking permit is only valid in student parking spaces. The closest parking to the University Union is Parking Structure II. Please view driving to campus and campus map for directions. A printable campus map is also available.
ADDITIONAL LINKS
Facebook Event Invitation
Campus Calendar
SPECIAL ACCOMMODATIONS
Individuals needing reasonable accommodations must contact us within 5 business days of the event at UNIQUEPrograms@SacStateUNIQUE.com or (916) 278-3928.