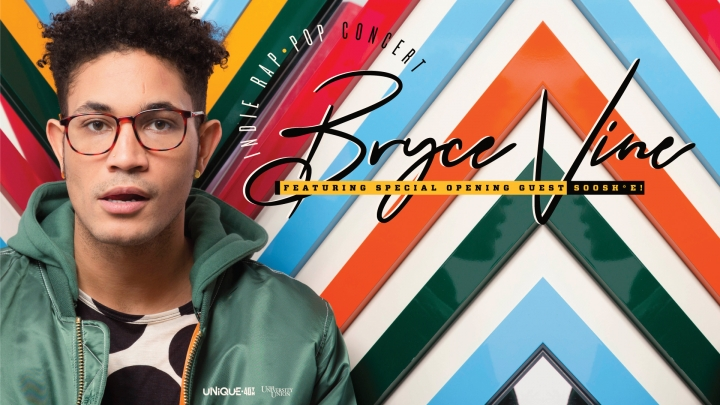 Date: April 18, 2019

Concert
EVENT TIME
7:30 pm
EVENT LOCATION
The University Union Ballroom
ADMISSION
$15 Early Bird Sac State students with valid One Card
$18 Sac State students with valid One Card
$22 General admission
Tickets to go on sale 12 pm on Thursday, February 21 online and at the ASI Student Shop (311 Sequoia Hall).
DESCRIPTION
The University Union's UNIQUE Programs is pleased to host hip-hop artist, Bryce Vine, with special guest, SOOSH*E, on Thursday, April 18th, 2019. The concert will begin at 7:30pm in the University Union Ballroom. Tickets are on sale now for $15 for early bird, $18 for Sac State students, and $22 for the general public. Each may be bought at www.SacStateUNIQUE.com or at the ASI Student Shop (Sequoia 311).
Bryce Vine (born Bryce Ross-Johnson) is originally from New York City, but moved to California when mother landed a role on NBC's Passions. Their move to inspired him to pursue a career in performing arts, and have succeeded since. Vine attended Berklee College of Music and explored various genres of music including gospel and jazz. He was signed by producer Nolan Lambroza, who is known for working with artists including Justin Bieber, Pitbull, and Lil Wayne. Vine's hit song, Drew Barrymore, was featured on Billboard's Hot 100.
Vine has collaborated with many artists, including G-Eazy, YG, and Zak Downtown. He has released two EP's, Lazy Fair (2014) and Night Circus (2016). This year, he released his first full-length album, Carnival (2019) and is currently on tour. He has performed at many venues, including Radio City Hall, The House of Blues, and the Golden 1 Center.

More info to come. Stay tuned! All ages permitted. No alcohol sold or permitted at venue. Open to the general public.
LINKS
Official Website
Facebook
Instagram
Twitter
Facebook Event Invitation
Campus Calendar
SPONSORED BY
UNIQUE Programs
The University Union
Round Table Pizza at the Union
PARKING INFORMATION
A Sac State parking permit is required to be displayed while parked on campus. You may only parking student parking spaces. To purchase a $7 daily (or $4 two-hour) parking permit:
• Sign up for a PayByPhone account and download the app. When you arrive on campus, enter location number "5115" into the app to pay your parking fee.
• When you arrive on campus, pay with cash or credit at any permit machine located in all student parking lots/structures. View the campus map for permit machine locations.
Your parking permit is only valid in student parking spaces. The closest parking to the University Union is Parking Structure II. Please view driving to campus and campus map for directions. A printable campus map is also available.
SPECIAL ACCOMMODATIONS
Individuals needing reasonable accommodations must contact us within 5 business days of the event at UNIQUEPrograms@SacStateUNIQUE.com or (916) 278-3928.