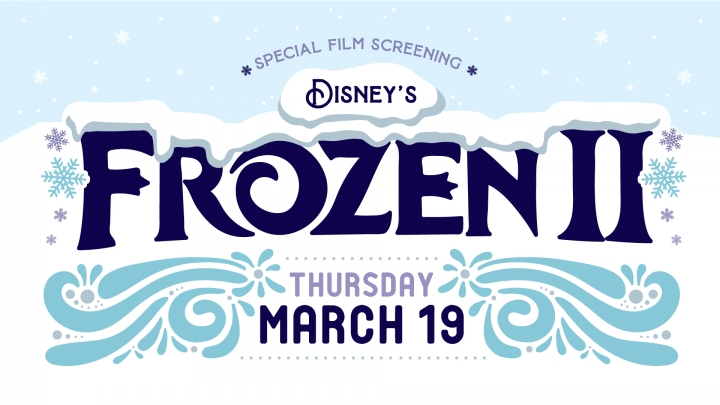 Date: March 19, 2020

Special Film Screening
EVENT TIME
6:30 pm
EVENT LOCATION
The University Union Ballroom
ADMISSION
Free!!!
DESCRIPTION
UNIQUE Programs at Sacramento State is pleased to announce a special movie screening of the 2019 Disney film Frozen 2 on Thursday, March 19th, 2020. This FREE event takes place at 6:30 pm in The University Union Ballroom and is open to the general public and all ages.
Frozen 2 is a sequel to the iconic box office blow-up Frozen. This sequel focuses on Elsa, the Snow Queen, and her unique power to create snow herself. In this film, Elsa cannot seem to find herself happy, despite being surrounded by the people she loves of Arendelle. Elsa randomly hears an unknown voice calling out to her out in the open, and thus she travels to enchanted forests, seas, and further than ever, beyond her kingdom to find the voice. This venture evolves into a misadventure of self-discovery for the brave Snow Queen.
Frozen 2 received $1.421 billion dollars in box office profit after its initial release on November 22nd, 2019. Some of the most memorable and iconic soundtrack features from this sequel are "All is Found," by Evan Rachel Wood, and "Some Things Never Change," by Kristen Bell, Jonathan Groff, Josh Gad, and the return of Frozens Elsa actress herself, Idina Menzel.
This event is an all-inclusive event that is open to anyone interested within the Sacramento State University and broader community. This event is completely free to Sac State Students and all other guests of the event. Families and attendees of all ages are welcome.
LINKS
Official Website
Facebook
Instagram
Twitter
Facebook Event Invitation
Campus Calendar
SPONSORED BY
UNIQUE Programs
The University Union
PARKING INFORMATION
FREE on the top floor of Parking Structure III. Please view driving to campus and campus map for directions. A printable campus map is also available.
SPECIAL ACCOMMODATIONS
Individuals needing reasonable accommodations must contact us within 5 business days of the event at UNIQUEPrograms@SacStateUNIQUE.com or (916) 278-3928.