Mariachi Bonitas de Dinorah Klinger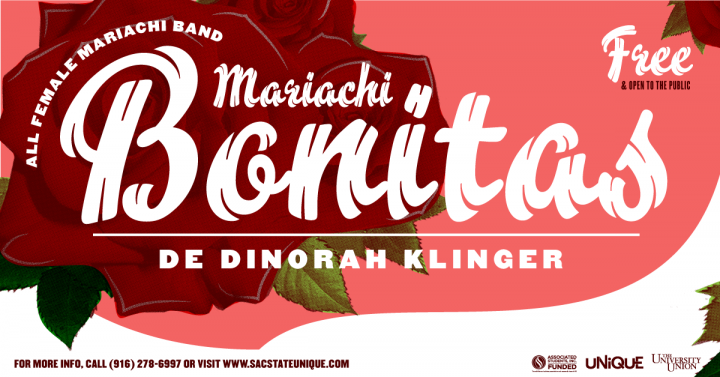 Date: May 5, 2021

All Female Mariachi Band
EVENT TIME
7:30 pm
EVENT LOCATION
Online- enjoy from the comfort of your own home. Tune in at www.SacStateUNIQUE.com
ADMISSION
Free!!!
DESCRIPTION
Established in 2020, Mariachi Bonitas is an all-female Mariachi that was created to share the captivating art of Mariachi music in the Sacramento (Northern California) area. Under the direction of our multi-award winning singer, songwriter and musician, Dinorah Klingler, Mariachi Bonitas was started to create a space for female Mariachi musicians to voice their love for Mariachi.
In the musical environment where songs are mainly sung by men, these ladies demonstrate great passion and devotion for Mariachi while at the same time creating history along the way.
With their musical excellence, Mariachi Bonitas is ready and thrilled to warm your hearts with their passion for Mariachi music!
Open to the general public.

Video courtesy of The Sac Bee.
LINKS
Official Website
Facebook
Instagram
Facebook Event Invitation
Campus Calendar
SPONSORED BY
UNIQUE Programs
The University Union
Associated Students, Inc.
SPECIAL ACCOMMODATIONS
Individuals needing reasonable accommodations must contact us within 5 business days of the event at UNIQUEPrograms@SacStateUNIQUE.com or (916) 278-3928.