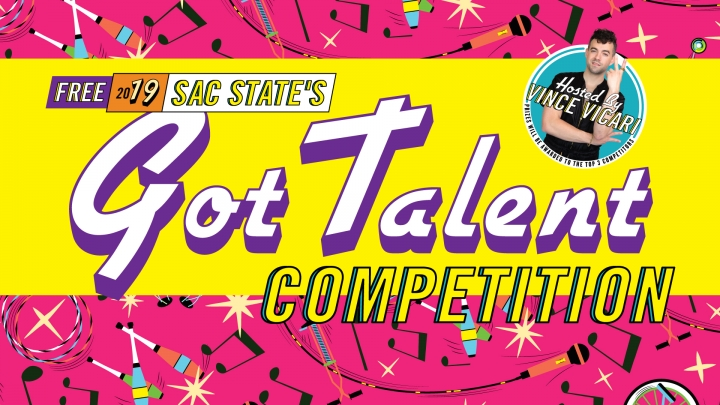 Date: November 14, 2019

Talent Competition
EVENT TIME
7:30 pm
EVENT LOCATION
The University Union Ballroom
ADMISSION
Free!!!
DESCRIPTION
The University Union's UNIQUE Programs will be hosting Sac State's Got Talent, on Thursday, November 14th. The event will be held in the University Union Ballroom at 7:30 pm, with doors opening at 6:30pm.
Sac State's Got Talent will feature the best entertainment at Sacramento State – its students. This competition will feature students and a variety of talents. Auditions will be held on two days:
Wednesday, October 2 from 2 pm- 4 pm in the University Union Redwood Room
Thursday, October 3 from 1 pm- 4 pm in the University Union Ballroom
Pre-registration is required by 11:59 pm, September 27. Performer must be a Sac State student who can show a valid OneCard. If performance includes a group of people, at least one performer must be a current Sac State student with a valid One Card. Performance should be less than 5 minutes.
Chosen performers will need to be available:
Thursday, November 7 from 4 pm- 6 pm in the University Union Ballroom for rehearsals
Thursday, November 14 in the University Union Ballroom for the event. Check in will be 6 pm and performers should be sure to be available through 10 pm.
All ages permitted. No alcohol sold or permitted at venue. November 14 event is open to the general public.
Prizes will be awarded to the top 3 competitors, as determined by our judges.
PERFORMER APPLICATION
LINKS
Facebook Event Invitation
Campus Calendar
SPONSORED BY
UNIQUE Programs
The University Union
PARKING INFORMATION
FREE on the top floor of Parking Structure III. Please view driving to campus and campus map for directions. A printable campus map is also available.
SPECIAL ACCOMMODATIONS
Individuals needing reasonable accommodations must contact us within 5 business days of the event at SacStateUNIQUE@unionwellinc.org or (916) 278-3928.