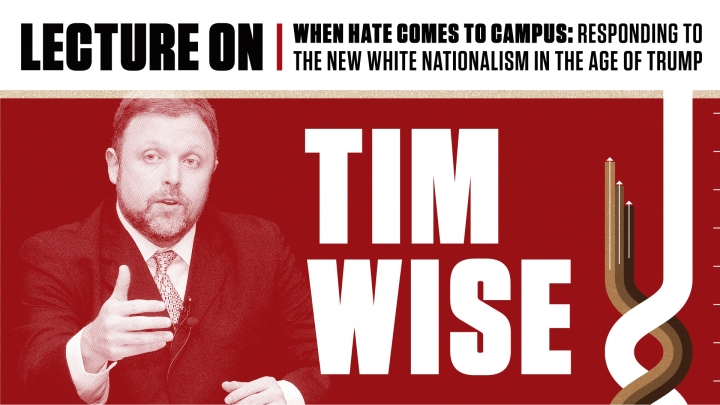 Date: November 7, 2019

Lecture on Race Relations
EVENT TIME
12 pm
EVENT LOCATION
The University Union Ballroom
ADMISSION
Free!!!
DESCRIPTION
Tim Wise is an "educator old enough to remember when the alt-right went by their much more honest name: white supremacists," as his official website Speak Out With Tim Wise states. Tim has been a patron to the passion and movement for social justice for over 25 years of his life. He has conducted community organizations and public speaking on institutional racism, and has recently taken up making podcasts to discuss the topic and bring light to issues regarding racism.
From 1995 to present day, Tim Wise is among the most prominent anti-racist writers and activists in the U.S., having spoken in 49 states, and on over 1000 college campuses, including Harvard, Stanford, and the Law Schools at Yale and Columbia. He has also trained corporate, government, entertainment, military and law enforcement officials on methods for dismantling racism in their institutions, and has served as a consultant for plaintiff's attorneys in federal discrimination cases in New York and Washington State. Wise is also the 2008 Oliver L. Brown Distinguished Visiting Scholar for Diversity Issues at Washburn University, in Topeka, Kansas: an honor named for the lead plaintiff in the landmark Brown v. Board of Education decision.
Tim Wise's newest book, White Lies Matter: Race, Crime and the Politics of Fear, was released in 2017 and discusses the "framework for understanding the politics of black outrage—and the subsequent white backlash to urgent calls for justice and racial equality," as stated by GoodReads.com.
This event is co-sponsored with Associated Students, Inc., Community Engagement Center, Women's Studies Department, Ayad Al-Qazzaz Endownment, and Department of Sociology, College of Interdisciplinary Studies.
All ages permitted. No alcohol sold or permitted at venue. Open to the general public.
LINKS
Official Website
Facebook
Twitter
Facebook Event Invitation
Campus Calendar
SPONSORED BY
UNIQUE Programs
The University Union
Associated Students, Inc.
PARKING INFORMATION
A Sac State parking permit is required to be displayed while parked on campus. You may only parking student parking spaces. To purchase a $7 daily (or $4 two-hour) parking permit:
• Sign up for a PayByPhone account and download the app. When you arrive on campus, enter location number "5115" into the app to pay your parking fee.
• When you arrive on campus, pay with cash or credit at any permit machine located in all student parking lots/structures. View the campus map for permit machine locations.
Your parking permit is only valid in student parking spaces. The closest parking to the University Union is Parking Structure II. Please view driving to campus and campus map for directions. A printable campus map is also available.
SPECIAL ACCOMMODATIONS
Individuals needing reasonable accommodations must contact us within 5 business days of the event at SacStateUNIQUE@unionwellinc.org or (916) 278-3928.