Wednesday Nooner: K Hella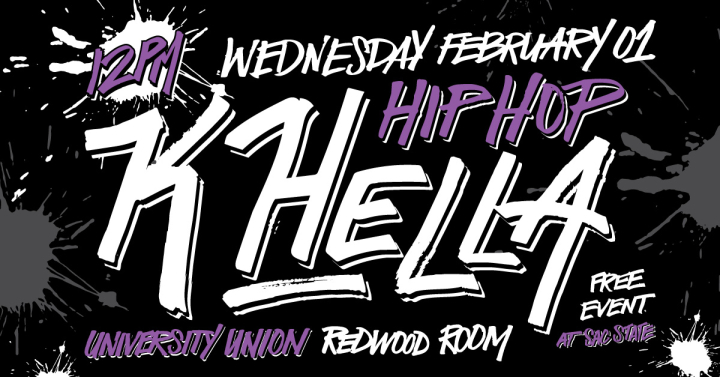 Date: February 1, 2023

Hip Hop Concert
EVENT TIME
12 pm
EVENT LOCATION
The University Union Redwood Room
ADMISSION
Free!!!
DESCRIPTION
The University Union's UNIQUE Programs at Sacramento State is proud to present a hip-hop concert with K Hella at the University Union Redwood Room, on February 1st at 12pm!
This concert is free and open to the public! No reservations are required.
K Hella is local hip-hop rapper from Sacramento. He has performed at Exhale Smoke Shop, Hookaholics Hookah Lounge and other venues here in Sacramento. K Hella's music is a reminiscence of hip-hop's golden age. His mellow vibes transcend listeners back in time and conveys important messages with deep connections.
He has released seven singles and two albums. In 2018, K Hella released his first album 'Shift'. His second album 'Focus' was released in 2020. His song 'Talk My Shit' in his second album 'Focus' has over 92,000 streams on Spotify.
K Hella is active and very involved in the community. He won the second season of Deserving Madness Championship tournament with a breaking record of 988 votes in 2021. He has collaborated with other local rappers in their mixtape 'By Your Side'. This mixtape was made in solidarity of the Black Lives Matter Movement and their funds were donated to Nor Cal Resist and other local organizations.
Come chill out with us! Grab a seat, bring a friend or two, and grab a free bag of popcorn from on our volunteers!
LINKS
Official Website
Instagram
Listen to K Hella's Music
Facebook Event Invitation
Campus Calendar
SPONSORED BY
UNIQUE Programs
The University Union
Round Table Pizza at the Union
PARKING INFORMATION
A Sac State parking permit is required to be displayed while parked on campus. You may only parking student parking spaces. To purchase a $8 daily (or $4 two-hour) parking permit:
• Sign up for a PayByPhone account and download the app. When you arrive on campus, enter location number "5115" into the app to pay your parking fee.
• When you arrive on campus, pay with cash or credit at any permit machine located in all student parking lots/structures. View the campus map for permit machine locations.
Your parking permit is only valid in student parking spaces. The closest parking to the University Union is Parking Structure II. Please view driving to campus and campus map for directions. A printable campus map is also available.
SPECIAL ACCOMMODATIONS
Individuals needing reasonable accommodations must contact us within 5 business days of the event at UNIQUEPrograms@SacStateUNIQUE.com or (916) 278-3928.