Beyond the "Believe" Murals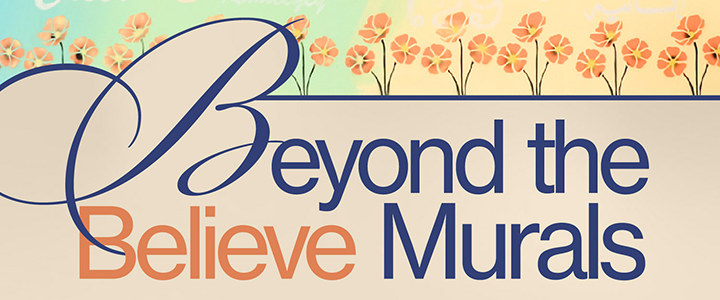 Beyond the "Believe" Murals
A collaborative exhibition of work by the participants of Sac State's 2022 "Believe" Murals with Wide Open Walls. The exhibit showcases these artists' range and depth of talent beyond the iconic murals that transformed Santa Clara Hall.
Gallery
Exibition Dates: September 25, 2023 - October 19, 2023
Artist Statement
The Beyond the Believe Murals exhibition features art by the muralists who created the "Believe" murals on Santa Clara Hall to celebrate these artists and Sac State's commitment to being a place of belonging for all.
Sacramento State's "Place of Belonging Murals" is a multiyear project supporting the University's Antiracism and Inclusive Campus Plan (AICP). The plan has three phases. The first is BELIEVING that we have challenges to overcome and collectively doing something about it. Phase two is BECOMING an antiracism, inclusive, and anti-oppression campus that transforms policies, procedures, perspectives, and practices so that our final stage of BEING represents our humanity in all of its beautiful splendor and conveys a true sense of belonging.
Created by students, staff, faculty, administrators, alums, and community members, the art on these walls is intended to be a living and transforming representation of our campus community on our antiracism and inclusive journey. New murals will be painted over the existing ones as the University progresses through each phase of the plan.
Year one murals, "Believing", were created in the fall of 2022. The second phase of murals, "Becoming", is tentatively scheduled to take place in late March 2024, followed by the "Being" murals in 2025.
Luis Garcia
Dr. Luis-Genaro Garcia, professor of Art Education at Sac State is an artist, art education scholar and former high school art educator. As an artist he draws on his experiences as a student and educator of the high school he attended to develop work that reflects the political and social circumstances faced by marginalized communities. His work is influenced by Mexican Muralist David Alfaro Siqueiros known for his social and political commentary.
As a long-time public high school educator and professor, he draws on the cultural assets of students and communities as relevant and accessible forms of art. Through this philosophy he believes that students' home knowledge can be used by educators to develop cultural and relevant knowledge that will develop the creativity and independence of students for their social transformation.
His most recent work uses newspaper headlines to highlight historical narratives that have often been untold.
Emma Montalbano
Emma Montalbano is an artist in Sacramento, California. She's skilled in photography, studio art, and printmaking, often blending these areas with collage and assemblage while exploring human identity and society through her art. Emma holds a Bachelor of Fine Arts in Studio Arts focusing on Printmaking with a minor in Art History and Curatorial Studies from Sacramento State University. She applies mixed media and juxtapositions to her printmaking, focusing on contrasting people's inner and outer selves through patterns and symmetry. This theme extends to her multidisciplinary work on identity and society, where she reflects on the human form, facial features, and symbols, sometimes comparing them to natural or abstract elements. Emma's art centers on reflecting the whole self, expressing these ideas through symbolism and objects. As a professional photographer, she captures concerts, events, and documentaries. In her art, she explores hands-on photography techniques like darkroom processes, connecting digital and fine art practices. Emma combines different images and methods in her art to reveal similarities and opposites through combination.
Emma's art expresses her deep-seated passion for personal identity, social justice, and social practice. Beyond her art, Emma is committed to art education within the community. She currently serves as an art teacher, imparting her love for community art education, making art a personal endeavor and a shared experience.
Wood Farguheson Jr
Introducing "Wood," born and raised in Lynn, Massachusetts, with roots that trace back to Costa Rica through both parents. Living in Sacramento As the painter known as "Tsumnu" (Some Knew), Wood's creativity knows no bounds. This exhibition is a fusion of his diverse talents, from vibrant aerosol street art to traditional canvas paintings and intriguing sculptures. Feel the pulse of Hip Hop Culture in his work, where each piece is a masterpiece of innovation and artistic mastery. Celebrate 50th year Anniversary of Hip Hop Culture, explore three carefully curated pieces and immerse yourself in the world of Wood, a true artist of our time.
Jane Simeon
Hi, my name is Jane, and I'm a Sac State student graduating this semester. I've been a student for a long time, and I'm anxious about the future but excited as well. A few things about me: I was born in the Philippines and raised in California. I love trying new foods, I love my family (friends and cat included), and I also love art.
Eku byasa Tagalog, eku byasa Kapampangan, and sometimes I feel like I'm not good at communicating in English either. For me, speaking, socially and emotionally, takes effort, and art as a form of communication is both easier and equally frustrating. I don't always enjoy the process. I don't always feel good about the result. But despite that, it's worth it. It's worth the time and effort, and it's worth speaking into existence even when it has no greater meaning than a simple, "thank you." And if, like me, you also have a pattern of hyper focusing on details and losing perspective—remember you are more than a grade, you are more than an image or expectations, and it's okay to be a weed in weed-out classes because weeds are pretty and pretty stubborn and grow back. If you fall, it's okay to watch the clouds for a while instead of immediately getting back up. And it's okay to let yourself be yourself, because you're worth it.
Erik Oliver
Erik Oliver is an accomplished artist based in Yuba City, California, with a compelling artistic journey that began in Mexico. At the age of 12, he immigrated to the United States, bringing with him a profound connection to art that has since flourished into a distinguished career.
Oliver's artistic journey began with a fascination for drawing, a passion that has been an enduring companion throughout his life. This enduring love for the arts led him to pursue a formal education in studio art from the University of Sacramento.
Over the years, Erik Oliver has meticulously honed his craft, cultivating a distinctive style that bears the influence of artists such as Salvador Dali, Greg "Craola" Simkins, Diego Rivera, and Tino Rodrigues, among others. His work serves as a testament to his deep exploration of themes centered on dreams, irrationality, and the subconscious.
Erik Oliver's art is an intricate tapestry woven from his own personal experiences and the vibrant world that surrounds him. Each piece is a captivating window into his unique perspective, offering viewers an opportunity to engage with the profound and the surreal.
Anastasia Sullivan
Multimedia artist A.C. Sullivan is a synesthete painter, poet, violinist, and emerging composer. As a violinist, they have performed in venues across the world, from the Los Angeles Convention Center to La Madeleine Church in the heart of Paris, while on a concert tour of France with the Seraphim Symphony.

In 2018, they were invited to perform at Carnegie Hall with Symphony Irvine, and performed with musicians of Earth, Wind, and Fire fame for The Eddie Nash Foundation. From folk to classical, they play a wide variety of musical genres. Appearing as a featured soloist in live mariachis and cameratas, as well as in recordings for local rap, alternative, and metal groups in Southern California, A.C.'s love of music and soundscapes is a major part of their creative process. In encapsulating their chromesthesia experiences on canvas, they have been commissioned to create art inspired by selected music for a variety of musicians and composers.

A.C.'s oil painting, The Sound of Souls (2018) was selected to be digitally reproduced as a mural for the lobby of Sac State's Aspen Hall, Hornet Commons in 2021. They were commissioned by the Festival of New American Music (45th Anniversary) to create an original oil painting, Bella Festiva (2022) inspired by the music of featured composer Libby Larsen, and by Shuying Li to create the album cover art for her opera When the Purple Mountains Burn (2023).
Phillip Altstatt
I am inspired by the bigness of the world and the even bigger depths of imagination. This inspiration drives my ambition and encourages my travels. I am blessed with an unrelenting creativity, that pours over into the ability to help others unpack their own ideas and visions. It is this limitless conceptualization that motivates me to continually dream without boundaries.
My focus as an artist is to draw attention to the magic that lies beneath the ordinary. A colleague once coined my work as a "re-enchantment of the everyday". Like Alice's dizzying adventure to discover who she is, my work takes a journey through many disciplines and areas of study before being fully realized.
There is a dreamy quality that I push for in my work. The abstraction in my work is not visual as much as conceptual; I am using abstract ideas to encourage viewers to consider the mystery behind the objects and places that they would otherwise take for granted. Discovering poetry in the world around me has always brought more personal joy than writing my own.


LR Kreations
My artistic journey has been a path of transformation, resilience, and self-discovery. It's a story marked by the pursuit of passion and the triumph over self-doubt. I embarked on this creative voyage as a response to life's uncertainties and the burning desire to find purpose beyond the corporate world.
My art is a celebration of the human spirit's resilience, the ability to transform adversity into triumph. It embodies the idea that creativity is a force that can illuminate even the darkest of paths. My overarching vision is to inspire others to embark on their own journeys of self-discovery, to chase their dreams, and to embrace the uncertainties of life with open hearts.
I primarily work with alcohol ink on canvas. This medium allows me to express the raw emotions coursing through me during my transformative experiences. The unpredictable flow of alcohol ink on the canvas is symbolic of life's unpredictability, and I find beauty in harnessing this chaos to create something meaningful.
In conclusion, my art is a testament to the transformative power of creativity and belief. It's a reminder that each of us possesses untapped potential waiting to be unlocked. My hope is that through my work, you will find inspiration and motivation to embrace your unique journey, to overcome doubts, and to turn your dreams into reality. In the ebb and flow of life, creativity is the guiding light that can lead us from struggle to triumph.
Beth Consetta Rubel
Beth Consetta Rubel is a visual artist from Austin, Texas. Rubel's work focuses on the themes of race, gender, sexuality, and pop culture. This is evident in her series, "The Paper Bag Test," where she draws and paints portraits of Black subjects- many of them well-known Black celebrities and public figures, such as President Barack Obama and Richard Pryor. In light of the recent cases of police brutality and state-sanctioned violence against Black men, women, and children, she has also included portraits of victims like Michael Brown and Aiyana Stanley Jones, in the series.
Beth Consetta Rubel focuses on themes of duality, identity, and representation related to pop culture. Her work blends traditional mediums with historic found objects, and modern technology to reflect on what we have learned from the past. She taunts the viewer, while opening dialog to consider their role in our collective progress.

Rubel is a mixed media visual artist raised in Texas, currently residing in Sacramento CA. She holds a BFA from University of Texas in Painting and Drawing and her work is featured in Politico Magazine, permanently installed at Facebook Headquarters and also at the Native in Austin. Her work is in the permanent collection of UC Davis Health and has been exhibited at the Center for Art of Africa Diaspora at University of Texas in Austin, Museum of Science + Industry in Chicago, Root Division, Crocker Museum among many others. Rubel is a lead muralist of Community Murals Sacramento, an innovate pilot program funded by the City of Sacramento. Administered by the Office of Arts and Culture, CMS is designed to elevate the voices of neighborhoods across each of Sacramento's districts.