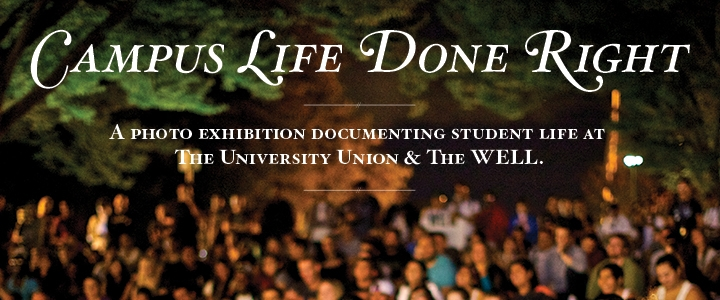 Campus LIfe Done Right
A photo exhibition documenting student life at The University Union and The WELL.
Exhibit Lounge
Exibition Dates: August 31, 2015 - September 24, 2015
Artist Statement
The shared vision of The University Union and The WELL (Union WELL Inc.) is to engage and connect the campus community through innovative programs, places and people and advance wellness, student success, and Sacramento State pride. Through thoughtful, purposeful, and creative programming, both strive to enhance the non-academic side of each student's college experience.
This exhibit showcases just a sample of the dynamic, diverse and successful programs and events we have hosted over the past two years. From major concerts and entertainment events to gallery exhibits, wheelchair basketball to glow zumba, billiards tournaments to basketball tournaments, the University Union and The WELL gives students places to connect, activities to form bonds and friendships, wellness all around, and memories for life. The University Union and The WELL, campus life done right.
Image Gallery