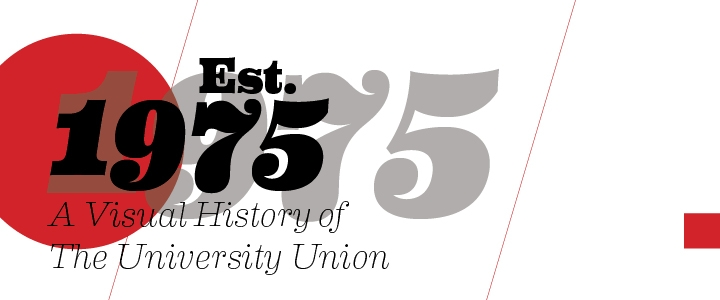 Est. 1975
A visual history of The University Union.
Exhibit Lounge
Exibition Dates: January 25, 2016 - March 31, 2016
Artist Statement
The University Union opened its doors as "the living room of the University" in the Fall of 1975, offering Sacramento State a major campus hub for dining, retail spaces, lounge areas, activities, and meetings. At roughly 65,000 square feet, plus an additional large outdoor lawn, it was immediately successful in becoming a center of campus life. Also housed within our walls- and very student-focused- Associated Students Inc., Student Activities (now Student Organizations & Leadership), and our own UNIQUE Programs were major factors in driving that success.
Seventeen years later, in 1992, with a great deal of input, students voted to expand the facility to include many more meeting rooms, additional dining spaces and vendors, a small auditorium, and a large Ballroom. The work was completed in two phases, nearly tripling our size by 1998 to approximately 180,000 square feet and adding more long-term "residents", such as student radio station KSSU. Other major construction improvements since that time include the full development of Serna Plaza, an expansion of the East Walkway to include more dining space, and a complete renovation of the Hornet's Nest. Every year, the Union continues to deliver enhancements that meet the needs of students, the campus, and the greater community in new and innovative ways.
Now celebrating the University Union's 40th anniversary, we are able to review the milestone events along our journey, our growth in size and diversity of offerings, and reflect on the foresight and sacrifice of previous generations of the Sacramento State family, as well as the efforts of the current one, in providing such a wonderful facility and programs.
Image Gallery