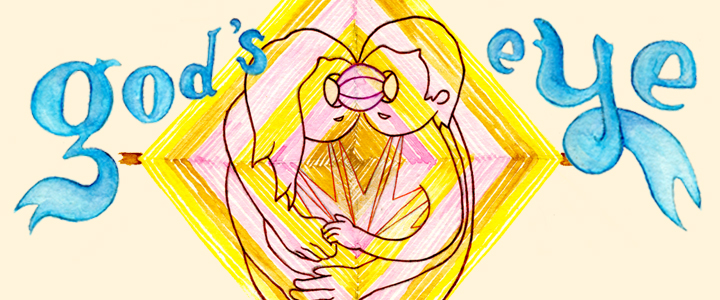 God's Eye
Drawing, Painting, Installation. Work by Troy Mighty.
Exibition Dates: April 1, 2014 - April 24, 2014
Artist Statement
After living in and around midtown Sacramento for seventeen years, I will be moving over the Atlantic this summer, to begin a new chapter of life in Berlin. This show features work both old and new, all created in the Capital City, and priced to move, so it needn't move with me.
I like to think of the God's Eye as a metaphor for the human being. It begins in the middle; creating a center that's never quite perfect, but which holds the structure together, without use of glue or tool. Never the same, though bound through variation on a formula, the center provides an intimate structure, and a sturdy place for our story to begin (only then to be hidden beneath the layers created). Once the form is in place, it is slowly wrapped; carefully dressed; adorned through graceful composition; and thus grows - with purpose, beauty, and humility.
My work studies the endless amalgamations of people and their relations, through undefined space and time. They are stories for you to tell yourself. Like the God's Eye, each of us, and our interpretations of what we experience, will always differ, and be unique unto ourselves. It is necessary then to seek our own story, moving through obstacles and intimidations as they appear, in order to confront the subtleties of difference in each other, and ultimately have our own tale told.
Image Gallery