Treasure Revealed: Art from the Sacramento State Collection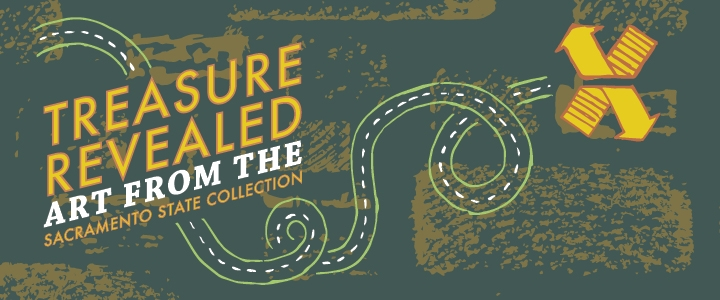 Treasure Revealed: Art from the Sacramento State Collection
Out of storage and on view at last, the artworks in this show offer a sampling of the rich and extensive holdings of the University Library Archive and Special Collections, Tsakopoulos Hellenic Collection, University Union, School of the Arts, and the Departments of Anthropology and Art.
Gallery
Exibition Dates: August 31, 2015 - September 24, 2015
Artist Statement
Treasure Revealed displays only a handful of the many hundreds of jewels in the rich and extensive Sacramento State art collection, almost all gifted to the University over nearly seven decades of acquisition. The works on view in this exhibition represent five campus collections, and they have been selected and prepared for display by the managers of those collections. The show is thus a unique inter-departmental effort by Sheila O'Neill, Emerita Librarian and former Head, Department of Special Collections and University Archives; George Paganelis, Curator of the Tsakopoulos Hellenic Collection; Rebecca Voorhees, Manager and Curator of The University Union Gallery; Phil Hitchcock, Director of the University Library Gallery; Terri Castaneda, Curator of Ethnology, Anthropology Museum; and Elaine O'Brien and Nancy Wylie, managers of the Art Department collection. We are presenting Treasure Revealed for the pleasure of viewers and to give them a glimpse of the impressive cultural resource the University holds. It is our shared hope that this exhibition will inspire interest in students, faculty, staff and community and gain support for a permanent collection gallery and study center.
A panel discussion will take place on Thursday, September 17 from 5:00–7:00 pm in the Orchard Suite of The University Union.
Image Gallery