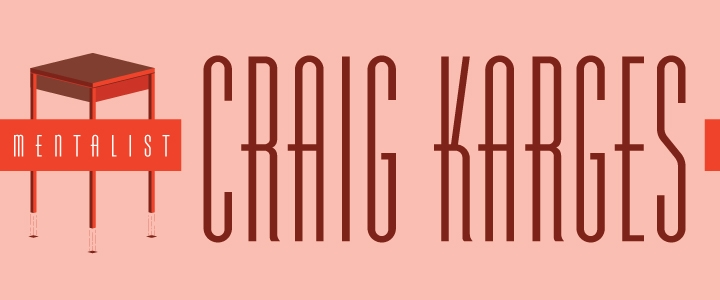 Craig Karges
Date: October 13, 2016
Show Information
Mentalist
EVENT TIME
7:30 pm
EVENT LOCATION
The University Union Ballroom
ADMISSION
Free!!!
DESCRIPTION
Sacramento State's University Union UNIQUE Programs is happy to announce a performance by mentalist Craig Karges. The event will take place on Thursday, October 13th, 2016 at 7:30 PMand is free for students and the general public.
Craig Karges is a mentalist known for his power of intuition to create the impression that nothing is impossible. He has the ability to make tables float, read minds, and bend metal. His ability to challenge imaginations while eloquently mixing psychology and magic has allowed him to perform more than five thousand times and make appearances in more than 22 countries on four continents.
His career continues to reach new levels of success as Karges remains to make appearances on CNN, Fox News Channel, CNBC, E! Entertainment Television, Lifetime Television, Wisdom Television and SOAPnet! In addition, Karges has written more than three books, which have all won awards.
For more information, please visit www.SacStateUNIQUE.com or call the University Union Info Desk at (916) 278-6997.
All ages permitted. No alcohol sold or permitted at venue.
PERFORMER LINKS
Craig Karges Official Site
SPONSORED BY
UNIQUE Programs and The University Union
PARKING INFORMATION
Free parking after 6:30 pm on the 6th floor of Parking Structure III.
ADDITIONAL LINKS
Facebook Event Invitation
Campus Calendar
SPECIAL ACCOMMODATIONS
Individuals needing reasonable accommodations must contact us within 5 business days of the event at UNIQUEPrograms@SacStateUNIQUE.com or (916) 278-3928.
Image Gallery