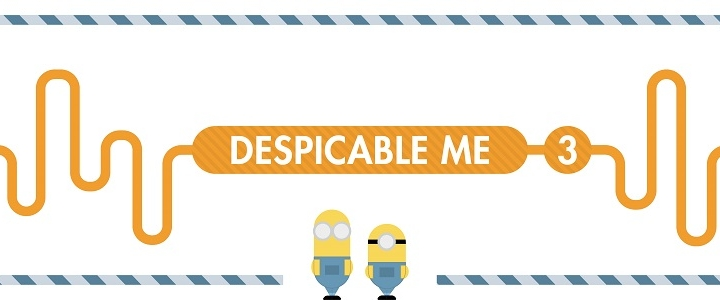 Despicable Me 3
Date: September 28, 2017
Show Information
Special movie screening
EVENT TIME
7:30 pm
EVENT LOCATION
The University Union Ballroom
ADMISSION
Free!!!
DESCRIPTION
Sacramento State's University Union UNIQUE Programs is pleased to announce a special movie screening of Despicable Me 3 on Thursday, September 28th, 2017 at 7:30 PM. The screening will be held in The University Union Ballroom. This event is free for students and the public. In addition, parking is FREE on the top floor of Parking Structure 3 after 6:30 pm.
Despicable Me 3 is the third installment of the Despicable Me series that follows minions. The mischievous Minions hope that Gru will return to a life of crime after the new boss of the Anti-Villain League fires him. Instead, Gru decides to remain retired and travel to Freedonia to meet his long-lost twin brother for the first time. The reunited siblings soon find themselves in an uneasy alliance to take down the elusive Balthazar Bratt, a former 1980s child star who seeks revenge against the world. Film is rated PG for action and rude humor. Run time is approximately 90 minutes. All ages permitted. No alcohol sold or permitted at venue. Open to the general public.
LINKS
Despicable Me 3 Official Website
SPONSORED BY
UNIQUE Programs
The University Union
PARKING INFORMATION
Free parking after 6:30 pm on the 6th floor of Parking Structure III.
ADDITIONAL LINKS
Facebook Event Invitation
Campus Calendar
SPECIAL ACCOMMODATIONS
Individuals needing reasonable accommodations must contact us within 5 business days of the event at UNIQUEPrograms@SacStateUNIQUE.com or (916) 278-3928.
Image Gallery