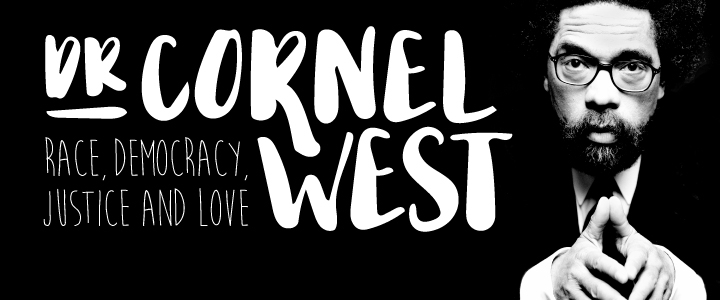 Dr. Cornel West
Date: September 29, 2016
Show Information
Prominent thought-leader & activist will speak on race, democracy, justice and love
EVENT TIME
7:30 pm. Doors open 6:30 pm.
EVENT LOCATION
The University Union Ballroom
The event can also be viewed live (video) in the University Union Hinde Auditorium and University Union Serna Plaza (outdoor lawn)
ADMISSION
Free!!!
DESCRIPTION
Sacramento State is honored to announce a lecture from Dr. Cornel West, a world renowned philosopher, social activist, author, and public intellectual. The lecture performed by Dr. Cornel West will take place on Thursday, September 29th, 2016 at 7:30 PM at Sacramento States University Union Ballroom. This event is free for students and the general public.
Dr. Cornel West grew up in Sacramento, where his mother served as a teacher and principal and his father was a general contractor. In the midst of the Civil Rights movement, Dr. West marched and organized several protests surrounded around the lack of black courses in high schools. His inspiration to protest for his rights came from prominent leaders such as Malcom X, and James Cone. After Dr. West graduated from high school he enrolled into Harvard University where he graduated Magna Cum Laude.
Dr. West's quest for greatness continued and came to fruition when he graduated from Princeton University with a PhD in Philosophy. When he graduated in 1980, he became the first African American to graduate with a degree in Philosophy. Dr. West went on to become a professor at several ivy leagues, and international schools. His empowering work, and success has led to him receiving more than 20 honorary awards.
Dr. West has written over 20 books and has edited 13. He is best known his books, Race Matters and Democracy Matters, his memoir Brother West: Living and Loving Out Loud, and his most recent books Black Prophetic Fire and Radical King.
At his lecture at Sacramento State, he will speak on Race, Democracy, Justice and Love.
All ages permitted. No alcohol sold or permitted at venue.
PERFORMER LINKS
Cornel West Official Website
SPONSORED BY
Associated Students, Inc., Center for African Peace & Conflict Resolution, Community Engagement Center, College of Social Sciences and Interdisciplinary Sciences, Cooper Woodson College, Multi-Cultural Center, One Book Program, Sociology Department/ Al Qazzaz Lecture Series, Student Academic Success & Educational Equity Programs, Department of Women's Studies, UNIQUE Programs and The University Union. This event is in support of Constitution & Civic Engagement Week.
PARKING INFORMATION
Free parking after 6:30 pm on the 6th floor of Parking Structure III.
ADDITIONAL LINKS
Facebook Event Invitation
Campus Calendar
SPECIAL ACCOMMODATIONS
Individuals needing reasonable accommodations must contact us within 5 business days of the event at UNIQUEPrograms@SacStateUNIQUE.com or (916) 278-3928.
Image Gallery