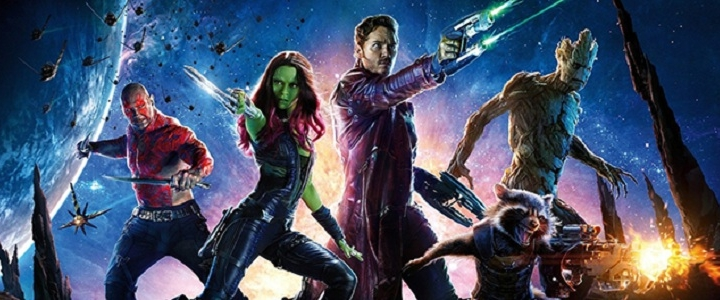 Guardians of the Galaxy
Date: November 20, 2014
Show Information
Special free screening of the 2014 action, sci-fi, adventure movie
EVENT TIME
7:30 pm
EVENT LOCATION
The University Union Ballroom
ADMISSION
Free!!!
DESCRIPTION
Guardians of the Galaxy is a 2014 American superhero film based on the Marvel Comics superhero team of the same name. The film was directed by James Gunn, who wrote the screenplay with Nicole Perlman and features and ensemble cast including: Chris Pratt, Zoe Saldana, Dave Bautista, Vin Diesel and many more.
An action-packed, epic space adventure, Guardians of the Galaxy expands the Marvel Cinematic Universe into the cosmos, where brash adventurer- Peter Quill- finds himself the object of an unrelenting bounty hunt after stealing a mysterious orb coveted by Ronan, a powerful villain with ambitions that threaten the entire universe. To evade the ever-persistent Ronan, Quill is forced into an uneasy truce with a quartet of disparate misfits: Rocket- a gun-toting raccoon, Groot- a tree-like humanoid, the deadly and enigmatic Gamora and the revenge-driven Drax the Destroyer. But when Quill discovers the true power of the orb and the menace it poses to the cosmos, he must do his best to rally his ragtag rivals for a last, desperate stand-with the galaxy's fate in the balance.
All ages permitted. No alcohol sold or permitted at venue.
Film run time is approximately 2 hours and 1 minute and is Rated PG 13.

SPONSORED BY
UNIQUE Programs and The University Union
PARKING INFORMATION
Free parking after 6:30 pm on the 6th floor of Parking Structure III.
ADDITIONAL LINKS
Facebook Event Invitation
Campus Calendar
SPECIAL ACCOMMODATIONS
Individuals needing reasonable accommodations must contact us within 5 business days of the event.