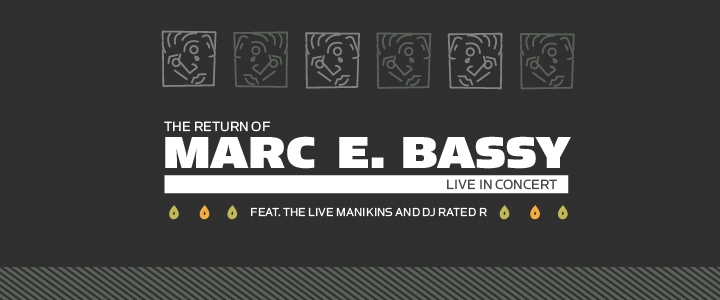 Marc E. Bassy Concert
Date: October 6, 2016
Show Information
Live in Concert
EVENT TIME
7:30 pm
EVENT LOCATION
The University Union Ballroom
ADMISSION
$10 Sac State students
$15 General
Tickets are available:
Online (see below)
ASI Student Shop, 3rd Floor of the University Union: Mon-Fri 9 am- 4 pm plus special evening hours on Wed until 6:30 pm
Ticket booth next to the Hinde Auditorium on Thursday, October 6 only from 4:30 pm- 9 pm
DESCRIPTION
Sacramento State's The University Union UNIQUE Programs is pleased to announce a live concert performance by Bay Area native, Marc E. Bassy on Thursday, October 5, 2016 at 7:30 pm. The live concert will be held at Sacramento State's University Union Ballroom. Tickets are available for purchase at www.SacStateUNIQUE.com. Ticket prices for students with a valid Sac State ID is $10 and $15 for the general public.
Marc E. Bassy began his music career in 2007 as a member of the 2AM Club, that originated in Los Angeles, CA. In 2010, 2 AM Club released their first album titled What Did You Think Was Going to Happen? After the success of their first album, the group released several singles, and mixtapes. In 2015, Marc E. Bassy and his bandmates announced their indefinite hiatus.
Marc released his solo debut mixtape, Only the Poets, Vol. 1 featuringsingles with mainstream artists Khelani and Iamsu!. Marc's mixtape was a success. After signing with Universal Republic Records, Bassy released his first EP, Groovy People. The EP featured the hit single, You & Me featuring G-Eazy. You & Me has charted in the United States, New Zealand, Australia, and Sweden. You & Me has consistently been one of the best records of the summer.
Marc E Bassy not only writes his own music, but he writes music for artist such as Wiz Khalifa, CeeLo Green, and Ty Dolla $ign. At 29, Marc has already achieved what most artist only dream to achieve. His talents as a singer-songwriter, mixed with his vibrant sounds, and unmatchable rhythm makes him one of the best artist of our time.
Opening for the show will be Sacramento natives DJ Rated R and The Live Manikins.
For more information, please visit www.SacStateUNIQUE.com or call the University Union Info Desk at (916) 278-6997.
All ages permitted. No alcohol sold or permitted at venue.
PERFORMER LINKS
Marc. E Bassy Official Site
Live Manikins Official Site
DJ Rated R Facebook
SPONSORED BY
UNIQUE Programs and The University Union
PARKING INFORMATION
A Sac State parking permit is required to be displayed while parked on campus. To purchase a $6 daily (or $3 two-hour) parking permit:
• Sign up for a PayByPhone account and download the app. When you arrive on campus, enter location number "5115" into the app to pay your parking fee.
• When you arrive on campus, pay with cash or credit at any permit machine located in all student parking lots/structures; view the campus map for locations.
ADDITIONAL LINKS
Facebook Event Invitation
Campus Calendar
SPECIAL ACCOMMODATIONS
Individuals needing reasonable accommodations must contact us within 5 business days of the event at UNIQUEPrograms@SacStateUNIQUE.com or (916) 278-3928.
Image Gallery