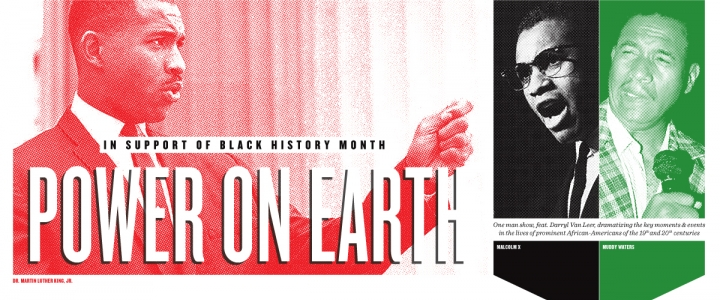 Power on Earth
Date: February 1, 2018
Show Information
One man stage production dramatizing key moments and events of prominent African-Americans of the 19th & 20th centuries
EVENT TIME
7:30 pm
EVENT LOCATION
The University Union Redwood Room
ADMISSION
Free!!!
DESCRIPTION
This one man stage production features Darryl Van Leer. Power on Earth is his signature, high-energy tour-de-force performance dramatizes key moments and events in the lives of eight prominent African-Americans of the 19th and 20th centuries. Led by the angelic narrator Gabriel, the audience is taken on a magical tour and comes face to face with Dr. Martin Luther King, Jr., Malcolm X, Thurgood Marshall, Marcus Garvey, Frederick Douglass, Nat Turner, and blues greats Muddy Waters and Robert Johnson. With 75 different sound effects, 14 different characters, and eight on-stage costume changes, the audience is catapulted through time in this heart-wrenching testament to man's courage and determination. Power on Earth is one hour and twenty minutes with no intermission.
All ages permitted. No alcohol sold or permitted at venue. Open to the general public.
PERFORMER LINKS
Darryl Van Leer Official Website
SPONSORED BY
UNIQUE Programs
The University Union
Associated Students, Inc.
in support of Black History Month
PARKING INFORMATION
Free parking after 6:30 pm on the 6th floor of Parking Structure III.
ADDITIONAL LINKS
Facebook Event Invitation
Campus Calendar
SPECIAL ACCOMMODATIONS
Individuals needing reasonable accommodations must contact us within 5 business days of the event at UNIQUEPrograms@SacStateUNIQUE.com or (916) 278-3928.
PHOTOS
Photos by Kalin Lippsmeyer

Image Gallery