Wednesday Nooner: Lights & Sirens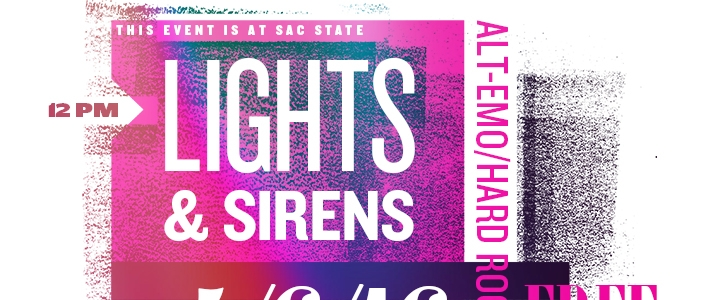 Wednesday Nooner: Lights & Sirens
Date: April 6, 2016
Show Information
Hard rock concert
EVENT TIME
12 pm
EVENT LOCATION
The University Union Serna Plaza
ADMISSION
Free!!!
DESCRIPTION
Sacramento State's University Union UNIQUE Programs is pleased to announce a hard rock Wednesday Nooner concert featuring Lights & Sirens. The concert will be at the University Union Serna Plaza on Wednesday, April 6, 2016 at 12 pm. This event is free for students and the general public.
Lights and Sirens is a hard rock band based in Sacramento, California. Featuring members of Drop Dead Red and fronted by the incomparable Brittany Vanessa on lead vocals and rhythm guitar, lights and Sirens bring a fresh and unique sound. The band paints a broad spectrum, ranging from beautiful, ambient melodies with hypnotizing vocal harmonies, to blistering dual guitar assaults, with progressive drums and bass adding complex and inventive rhythms to the mix. With their unforgettable sound and high energy stage show, you don't just "listen" to Lights and Sirens, you "experience" Lights and Sirens.
More info to come on . Stay tuned!
All ages permitted. No alcohol sold or permitted at venue.
PERFORMER WEBSITE
Lights & Sirens Facebook
SPONSORED BY
UNIQUE Programs and The University Union
ADDITIONAL LINKS
Facebook Event Invitation
Campus Calendar
SPECIAL ACCOMMODATIONS
Individuals needing reasonable accommodations must contact us within 5 business days of the event at UNIQUEPrograms@SacStateUNIQUE.com or (916) 278-3928.
Image Gallery